Assignment Questions:
1. Graham bell PLC is a business registered as a public listed company on the 3rd of January 2020 in Singapore. As they are in the initial stage of their business they require an accountant to record all the transactions of the business and report the financial statements.
Imagine that you are their accountant and explain to them what is the financial reporting standard most of the countries in the world following along with Singapore standards and what are the other requirements in force to present the financial statements.
Does your answer in 1 (a) changes if Graham bell PLC started their business in Florida (a state of USA)? If Yes /No provide valid reasoning.
2. The followings are the business transactions of a sole trader George.
2020 March                                            $
1. Opening balances in the following accounts
Capital             –           40,000
Bank                –           25,000
Cash                –           15,000
Drawings         –           10,000
3. Purchased goodson credit from the following suppliers.
Maze& Co -$2,000
Rasika -$4,000
Ben – $3,500
4. Sold goods to following customers on credit
Ami & Co – $4,500
Hanna – $2,100
7. Returned goods toMaze$580& Ben $300
11. Paid cash $280 for Insurance payment.
15. Electricity bill of George's house $1,250 paid from business's cheque.
16. Rent received $1,500
20. Sold goods to Gama Pvt Ltd for $4,360 on credit.
21. Inward returns from Ami & Co $500 & Hanna 150.
22. Paid cheque to Maze& Co to settle the payment due. They have given a discount of $100.
25. Amy & co-paid cheque $4,300 and receive a discount of $200.
27. Sold goods to Yuan $280 on credit.
29. Purchased goods on credit $420 from Ben.
30. Paid Insurance $1,900 on cash.
31. Received commission of $300 by cheque.
Record the above transactions in the books of original entries.
Transfer the above records in 2(a) to respective ledgers by posting them in to 'T' accounts.
Prepare the trial balance of George as at 31st March 2020.
3. Prepare the following financial statements of MNZ PLCby using the Trial balance and additional information given below.
Income statement
Statement of changes in equity
Statement of financial position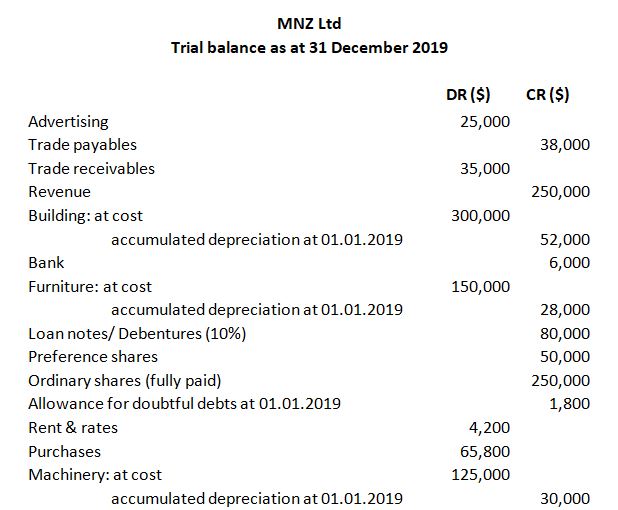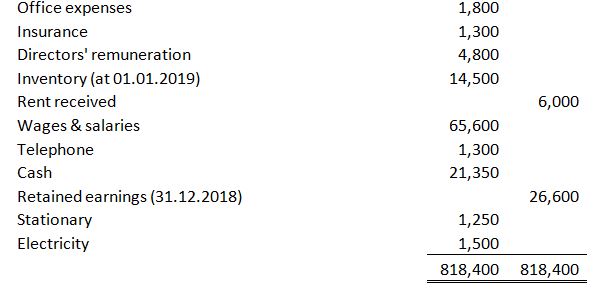 Additional Information:
Inventory as at 31.12.2019 $10,500.
Depreciation is to be charged during the year to Machinery & Furniture 10% at cost and Building 5% at cost using the straight-line method.
The business has decided to write off $3,500 trade receivables as irrecoverable debts on 31.12.2019.
The business has decided to charge an allowance for doubtful debt 4% of remaining trade receivables (after deducting irrecoverable debts) at 31.12.2019.
Wages and salaries due at 31. 12.2019 $2,900.
During the year the following payments were made as an advance for the next year: Electricity= 250$; Insurance= 150$
Preference dividends paid during the year & ordinary dividends 5% proposed during the year.
Transfers to the following reserves made on 31.12.2019
General reserve- 5,000$
Non-current assets replacement reserve- 7,500$
Shares issued 7.2% Preference shares, 1.25$ each & Ordinary shares each $1.
4. Identify and explain any five accounting conventions you applied when preparing these statements.
5. Discuss the pros and cons of starting up a business as a limited liability company than a sole trader.