Case Study Scenario
BVTX Metalworks Pte Ltd manufactures metal components for a variety of industries. Recently, they have expanded their business to include trading and sale of metal products. With the new business, they increased their headcount from 50 to 120 employees. Of these employees, 50 are working in production, whilst 70 employees are located in the warehouse and office building.  Being in the essential industry, all the employees are working on-site and not from home.
The site they are located in comprises a production building, warehouse and a two-storey office as shown in the layout below.
The office building is about 30 years old. The two floors are each served by a separate air handling unit. Due to energy conservation, only a very small percentage of the windows can be opened for ventilation.
To cater to the increase in headcount, the company renovated Level 2 of the office building, which was originally used as a store. Each office floor is about 300 sq. m and consists of open plan workstations, a printing room, a pantry, managers' rooms and meeting rooms
1. Additional Information for IAQ Survey
New carpets, wallpaper and furnishings have been installed in Level 2 and this area houses the new trading and sales team plus the management staff. Although new, many of the employees felt it is too congested and complain of poor air quality, especially those seated near the pantry, corners and printing room.  Some experienced tightness of the throat, irritation to the eyes, headache and dizziness. These symptoms disappear during the weekend, only to return once back at work. There is also some water seepage from the windows whenever there is heavy rain, causing some of the ceiling boards to become mouldy.
At Level 1 office area, the furniture, carpet and wallpaper have also been changed. Employees here frequently complains of headache and flu-like symptoms and tend to take more medical leave than before the renovation happened.
The table below shows the breakdown of the employees in production, warehouse and office and the number of complaints received concerning IAQ.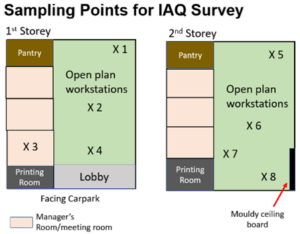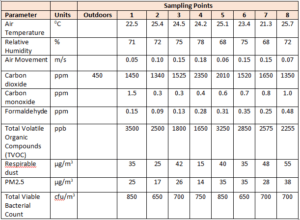 What You are Expected to Complete for the Indoor Air Quality (IAQ) Report
Describe objectives for the survey
Describe the sampling plan
Compare the IAQ survey results with the allowable limits from SS 554:2016 Code of Practice for Indoor Air Quality for Air-Conditioned Buildings.
Discuss the findings and provide recommendations for improvement of indoor air quality where required.
Complete an IAQ Air Quality Report as part of the course assessment